JOIN US FOR
A SALON EMOTION CLASS!
" Class was so awesome. SALON EMOTION 7 Steps creates a powerhouse for client retention. Great day. Great content. Empowering! "
Jo Cox The 426 Salon FL
" Incredible experience. Everyone should take this class! "
Ryan McKinney Z'eba Salon & Spa GA
FIND THE SALON EMOTION CLASS THAT'S RIGHT FOR YOU!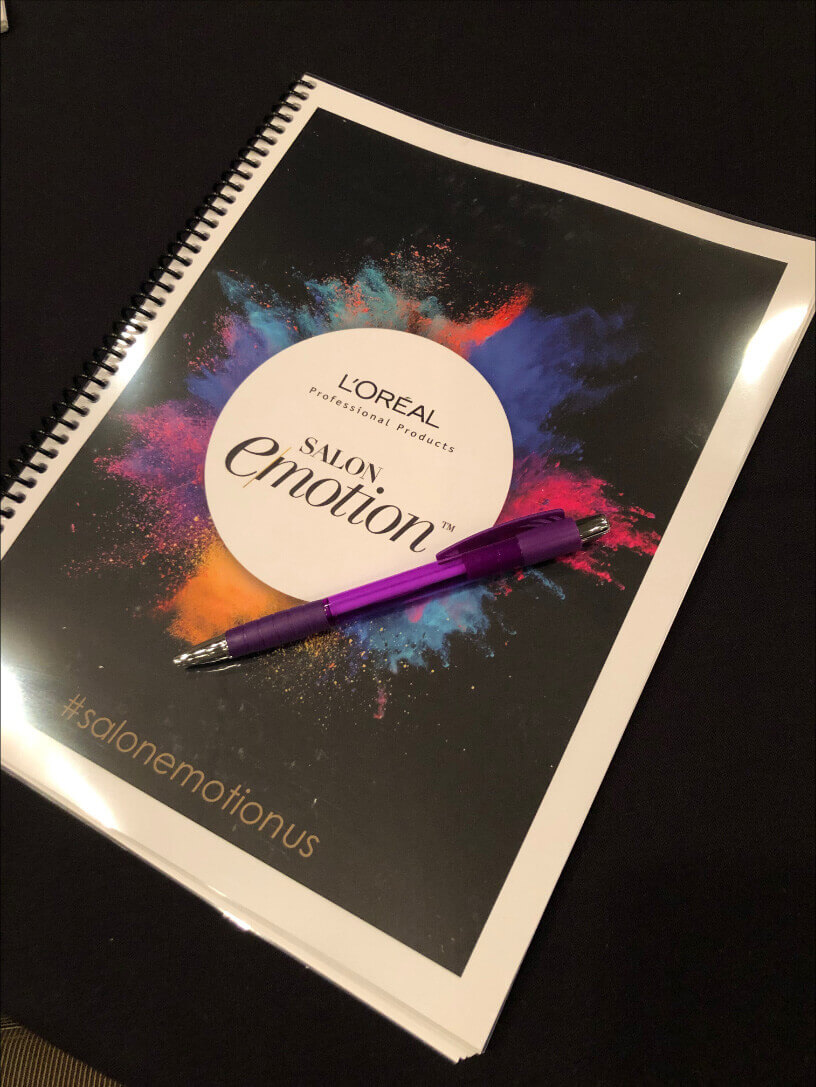 SALON EMOTION IN-SALON CLASS
Bring the power of SALON EMOTION into your salon.

Get immersed in the 7 steps of the client journey with a customized in-salon class.

Explore in-depth SALON EMOTION'S exclusive 7-Step program which provides the tools, mindset and training to create the ultimate client experience in your salon.

Contact your Sales Consultant to schedule a class or use your LEVEL LOYALTY REWARDS points!

SALON EMOTION IN-STORE CLASS
Get introduced to the 7 steps of the client journey in this SALON EMOTION introductory store class.
Over the course of 3 hours, you'll start to explore SALON EMOTION'S exclusive 7-Step program which provides the tools, mindset and training to create the ultimate client experience in your salon.
Contact your local SalonCentric or State/RDA store or check Saloncentric.com for more details and to register. Redeem points for these classes at @LEVELLOYALTYREWARDS.COM
| Event Name | Date | Store | City | ST |
| --- | --- | --- | --- | --- |
| Suite Emotion | 03.07.2022 | Long Beach | Signal Hill | CA |
| Suite Emotion | 03.07.2022 | Gainesville | Gainesville | FL |
| Salon Emotion | 03.14.2022 | Nashua | Nashua | NH |
| Suite Emotion | 04.04.2022 | Elk Grove | Elk Grove | CA |
| Salon Emotion | 04.11.2022 | Arlington Heights | Arlington Heights | IL |
| Salon Emotion | 04.11.2022 | Gainesville | Gainesville | FL |
| Suite Emotion | 04.18.2022 | Woodland Hills | Woodland Hills | CA |
| Salon Emotion | 04.25.2022 | Broad Street | Richmond | VA |
| Salon Emotion | 04.25.2022 | Mokena | Mokena | IL |
| Salon Emotion | 04.25.2022 | Randolph | Randolph | MA |
| Suite Emotion | 04.25.2022 | Tacoma | Tacoma | WA |
| Suite Emotion | 05.02.2022 | Staten Island | Staten Island | NY |
| Salon Emotion | 05.02.2022 | Reading / West Lawn | Reading | PA |
| Suite Emotion | 05.02.2022 | Santa Rosa | Santa Rosa | CA |
| Suite Emotion | 05.02.2022 | Lantana | Lantana | FL |
| Salon Emotion | 05.09.2022 | Omaha N | Omaha | NE |
| Suite Emotion | 05.16.2022 | El Toro | Lake Forest | CA |
| Salon Emotion | 05.23.2022 | Glendale Heights | Glendale Heights | IL |
| Salon Emotion | 05.23.2022 | Buckhead | Atlanta | GA |
| Suite Emotion | 06.06.2022 | Union | Union | NJ |
| Suite Emotion | 06.06.2022 | Vacaville | Vacaville | CA |
| Salon Emotion | 06.06.2022 | Mentor | Mentor | OH |
| Salon Emotion | 06.13.2022 | Hamilton Square | Hamilton Square | NJ |
| Salon Emotion | 06.13.2022 | Portland | Portland | ME |
| Suite Emotion | 06.13.2022 | Merritt Island | Merritt Island | FL |
| Suite Emotion | 06.13.2022 | Escondido | Escondido | CA |
| Salon Emotion | 06.13.2022 | Chicago | Chicago | IL |
| Suite Emotion | 06.13.2022 | Charleston | Las Vegas | NV |
| Salon Emotion | 06.13.2022 | Grand Rapids | Grand Rapids | MI |
| Salon Emotion | 06.20.2022 | Alexandria | Alexandria | VA |
| Salon Emotion | 06.27.2022 | Overland Park | Overland Park | KS |
| Suite Emotion | 06.27.2022 | Mesa | Mesa | AZ |
| Suite Emotion | 08.08.2022 | Green Brook | Green Brook Township | NJ |
| Salon Emotion | 08.08.2022 | Roseville | Roseville | CA |
| Suite Emotion | 08.08.2022 | Jacksonville | Jacksonville | FL |
| Salon Emotion | 08.15.2022 | Arlington Heights | Arlington Heights | IL |
| Suite Emotion | 08.22.2022 | Hillcrest | San Diego | CA |
| Salon Emotion | 08.22.2022 | Mokena | Mokena | IL |
| Suite Emotion | 08.29.2022 | Kent | Kent | WA |
| Suite Emotion | 08.29.2022 | Roseville | Roseville | CA |
| Salon Emotion | 08.29.2022 | Nashua | Nashua | NH |
| Salon Emotion | 09.12.2022 | Nanuet | Nanuet | NY |
| Suite Emotion | 09.12.2022 | Airport Way | Portland | OR |
| Suite Emotion | 09.12.2022 | Ocala | Ocala | FL |
| Suite Emotion | 09.19.2022 | Saddle Brook | Saddle Brook | NJ |
| Suite Emotion | 09.19.2022 | S Tampa | Tampa | FL |
| Suite Emotion | 09.19.2022 | Calloway | Bakersfield | CA |
| Suite Emotion | 09.26.2022 | Lauderhill | Fort Lauderdale | FL |
| Salon Emotion | 09.26.2022 | Danvers | Danvers | MA |
| Salon Emotion | 10.03.2022 | Roswell | Alpharetta | GA |
| Suite Emotion | 10.03.2022 | Colorado Springs S | Colorado Springs | CO |
| Suite Emotion | 10.10.2022 | Los Gatos | Los Gatos | CA |
| Suite Emotion | 10.10.2022 | Tacoma | Tacoma | WA |
| Suite Emotion | 10.17.2022 | San Jose | San Jose | CA |
| Suite Emotion | 10.17.2022 | Coral Gables | Miami | FL |
| Suite Emotion | 10.24.2022 | Fresno | Fresno | CA |
| Salon Emotion | 10.24.2022 | Rockville | Rockville | MD |
| Suite Emotion | 10.24.2022 | Orange Park | Orange Park | FL |
| Salon Emotion | 10.31.2022 | Grand Island | Grand Island | NE |
| Salon Emotion | 11.07.2022 | Flint | Flint | MI |